Not an easy flight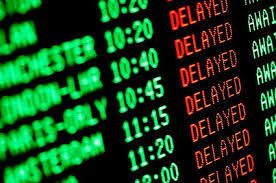 I finally got to NYC at 10:00 pm local time, 6 hours late on a 5 hours flight, not bad!
We left San Francisco at 8:00 am, but over Chicago, we started flying in circles, and after a few minutes the captain announced that the FAA was not allowing us to approach NYC for bad weather and lack of air slots.
We landed in Chicago, were not allowed out of the plane, because every 30 min we were waiting for the go ahead. Spent 4 hours sitting in a idle plane :-(
The captain was nice and informative. He told us about the fight between the FAA and the NY Port Authority, and gave us this link about an article in the Wall Street Journal. He also blamed it on rush hours on Fridays ?!?!? I thought rush hours were for cars ...
When we finally got to NYC, it was late to get the keys of my friend's place from the doorman who had left, but fortunately I found another friend who offered his couch.
What a day!